Quantity Surveyor - London, ON
Company: 
Dufferin Construction - a division of CRH Canada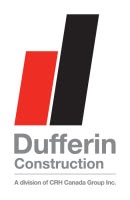 Job ID:  141929 
Work Type:  Full Time Permanent 
It is a great time to join the CRH Canada team! CRH Canada is going through an exciting business transformation which demands first-class Talent Management support to drive results.

We are building a world- class team. Make your mark!

You will be a successful addition to our team if you look at change as an opportunity to develop and contribute to the business. You will be successful in your role if you like partnering with the business, presenting new ideas and providing excellent customer service.
Dufferin Construction Company, a division of CRH Canada Group Inc. established in 1912, is one of the largest heavy civil engineering contractors in the industry, and we are continuing to grow and looking for a Quantity Surveyor to join our team!
Under the direction of the District Manager, the successful candidate will prepare quantity take-offs for pricing purposes on tenders and change orders using various computer technology such as Pay Dirt software, AutoCAD, Bluebeam software and/or Microsoft office along with manual techniques. This position will be responsible for supporting our projects in and around the Western Ontario region.
Responsibilities:
Read drawings and specifications on assigned projects.
Contact consulting design engineers to clarify details relating to specific projects.
Prepare take-off for commercial, municipal and heavy construction projects using computer-aided technology or manual process.
Review completed take-off with Estimator to obtain approval of final quantities to be used in bidding process.
Prepare tender submission packages and ensure that all requirements for tender packages are included prior to submission.
Complete tender checklist accurately and on time to prevent any tender submission errors.
Assist Estimator with various bidding tasks such as:

Calling and providing subcontractors with drawings and specifications to price work.
Attend mandatory site meetings
Assist in the closing of tenders

Assist field operations with tracking and summarizing monthly as built payment quantities as required.
Experience & Educational Requirements:
Post-Secondary Diploma in Civil Engineering Technology and a minimum of 1 year of related experience, or an equivalent combination of education and practical experience.
Position Dimensions:
Excellent interpersonal, communication and leadership skills.
Strong knowledge of material classifications.
Ability to read drawings and specifications.
Strong computer skills.
Maintains a high level of customer service.
Build relationships and rapport with colleagues/customers; Coordinate with other team members to deliver seamless service to customers.
Contributes ideas and actions towards the continuous improvement of processes within areas of influence.
Why work for us?
This position will received direct training to become an Estimator/ Project Coordinator
With parent companies in Concord, the US and Ireland, your growth potential is limitless!
Work with a team of dedicated professionals who are there to support your professional growth!
Flexible benefits plans, Defined Contribution pension plan, annual bonuses and merit based increases ensure that your hard work and dedication will be rewarded!
Visit our website for more information: http://www.crhcanada.com

Job Segment: Surveyor, Engineer, Consulting, Drafting, CAD, Engineering, Technology