Send me alerts every days
Project Planner/Scheduler - Oakville
Location: 
Oakville, ON, CA
Company: 
Dufferin Construction - a division of CRH Canada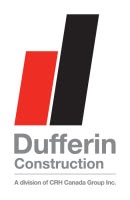 Job ID:  148817 
Work Type:  Full Time Permanent 
It is a great time to join the CRH Canada team! CRH Canada is going through an exciting business transformation which demands first-class Talent Management support to drive results.

We are building a world- class team. Make your mark!

You will be a successful addition to our team if you look at change as an opportunity to develop and contribute to the business. You will be successful in your role if you like partnering with the business, presenting new ideas and providing excellent customer service.
Dufferin Construction Company, a division of CRH Canada Group Inc. is currently looking for a Project Planner/Scheduler to join their team. The Project Planner/ Scheduler, working under the general direction of the Chief Estimator- Central and West District is required to work closely with members of project teams, such as Estimator/Coordinators, Superintendents, Construction Coordinators. The primary focus will be on the development and maintenance of project schedules, bid buy-out process, preparation of prequalification proposals, and to provide support in the development of various departmental initiatives. This position will require a strong commitment to quality and excellence in the support of company project planning processes, cost control, scheduling and procurement. This position will be located in our Oakville office.                                                                                      
Responsibilities: #LI-SS1
Project Schedule Development / Maintenance
As the acting technical expert of Primavera P6, work closely with members of the project team to input and develop detailed baseline schedules, using the CPM (Critical Path Method) with integrated logic, resources and cash flows if required
Responsible for the complete systems management of the companies scheduling program (Primavera) as it relates to system security, technical support and co-ordination and scheduling of system upgrades
Provide technical support and expert guidance to field operations staff, using Primavera P6; by ensuring that construction schedules are developed in-line with CPM Methodology, company process guidelines and customer specifications
Proposal Writing
Develop support documentation required for the submission of prequalification proposals
Responsible for the maintenance of standard marketing templates that adhere to branding requirements used in the development of proposals
Involved with the marketing team (Chief Estimators & Estimators) in selecting preference projects that will satisfy the Owner's requirements of a given submittal
Consult and advise management on proposal matters
Marketing / Estimating Support – Post
Ensure buyout project estimates are developed within established company standards that allow for cost budget data to be imported in to the companies ERP system (Viewpoint Vista)
Work closely with the Project Estimator/Coordinator in order to ensure all buyout guidelines  up to job activation are adhered to SOX Conformance
Assist in the development and maintenance of statistical databases, in addition to providing assistance in the creation of new standard reports
Experience & Educational Requirements:
Degree in Civil Engineering, Diploma in Civil Engineering Technology
2 to 4 years related experience; construction experience an asset
Previous exposure to scheduling concepts and use of computer based software, specifically Primavera P6 and Microsoft Project
Why work for us?
With parent companies in Concord, the US and Ireland, your growth potential is limitless!
Work with a team of dedicated professionals who are there to support your professional growth!
Flexible benefits plans, Defined Contribution pension plan, annual bonuses and merit based increases ensure that your hard work and dedication will be rewarded!
About the Company
Dufferin Construction, A division of CRH Canada Group Inc. established in 1912, is one of the largest heavy civil engineering contractors in the industry, and we are continuing to grow.  Dufferin has a solid industry reputation and prides itself on hiring only entry level employees and developing them up the ranks.
Visit our website for more information: http://www.crhcanada.com
CRH Canada Group Inc. recognizes Canada's diverse landscape. Accommodation is available upon request for applicants with disabilities throughout the recruitment and selection process.
Date Posted: 
Apr 12, 2019

Job Segment: Engineer, Scheduler, ERP, Procurement, Civil Engineer, Engineering, Administrative, Operations, Technology