Send me alerts every days
Environmental Inspector (Finch West LRT) - Woodbridge
Location: 
Woodbridge, ON, CA
Company: 
Dufferin Construction - a division of CRH Canada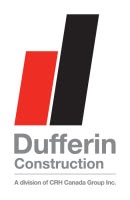 Job ID:  148243 
Work Type:  Full Time Permanent 
It is a great time to join the CRH Canada team! CRH Canada is going through an exciting business transformation which demands first-class Talent Management support to drive results.

We are building a world- class team. Make your mark!

You will be a successful addition to our team if you look at change as an opportunity to develop and contribute to the business. You will be successful in your role if you like partnering with the business, presenting new ideas and providing excellent customer service.
Dufferin Construction Company, a division of CRH Canada Group Inc. established in 1912, is one of the largest heavy civil engineering contractors in the industry, and we are continuing to grow!  Due to continued and rapid growth within our Joint Ventures department, we are looking for an Environmental Inspector. Based out of the Woodbridge, ON project office, this position will report to the Environmental Manager.
You will be a successful addition to Dufferin Construction if you:
Enjoy working in a fast-paced, team environment.   

CRH18      #LI-SS1

Have a solid background in providing exceptional customer service to both internal and external stakeholders.
Essential Functions:
The Environmental Inspector is responsible for working within the Environmental and Construction Departments to ensure environmental compliance in support of the successful completion of the construction of 11.5km of fast, reliable transit along Finch Avenue West from Keele Street to Humber College. The chosen candidate must be engaged at the project site(s) and communicating environmental issues to the project team in a timely manner.
Responsibilities:
Monitor and inspect construction activities on a daily basis to maintain compliance with environmental obligations; permits and approvals; policy and best management practices. Audit and provide recommendations to ensure project site compliance.
Prepare written, oral, tabular, and graphic reports summarizing requirements and regulations, including enforcement and chain of custody documentation.
Determine the nature of code violations and actions to be taken, and issue written notices of violation. Prepare investigatory documentation. Interview individuals to determine the nature of suspected violations and to obtain evidence of violations.
Communicate with the environmental, design and construction teams
Interact with jurisdictional employees and work with the Project and Design Engineers to resolve any compliance issues and communicate any upcoming requirement changes with Mosaic Transit Group (MTG) stakeholders
Manage and support environmental third party vendors at the project site as needed
Supervision and coordination of spills remedial activities
Conduct air and noise monitoring and prepare monitoring data reports
Collection and analysis of soil and water samples
Waste material movements and disposal documentation at the project site
Provide Environmental Awareness and Orientation Training through on-site orientation, toolbox talks and procedure roll-outs, and advise project team members in support of environmental compliance requirements
Update and maintain tracking databases for environmental inspections, investigations and follow-up activities
Ensure environmental issues are addressed and requirements are met in accordance with the Environmental approvals and project agreement
Other duties as assigned
Experience and Qualifications:
3-7 years' experience with project management and/or site inspections in the environmental or construction industry; transit industry preferred
Knowledge of environmental regulations and approvals
Position Dimensions:
Degree in Environmental Engineering, Environmental Science or a related technical field
Proficient in Microsoft Office (Outlook, Excel, PowerPoint, Word)
Ability to communicate with tact and diplomacy, excellent verbal and written communication skills
Ability to think conceptually
Understand complex tasks, situations, problems and analyze them using a systematic approach
Capacity to present materials clearly and engage audience
Competency to solve problems both independently and collaboratively within a group setting
Capacity to interact with all levels of an organization and foster a teamwork relationship
Maintain confidentiality and remain objective while working with sensitive and confidential materials
Ability to use stairs, ladders and climb over rough terrain
Primary work location is along the project alignment (Finch Avenue West, between Keele Street and Humber College)
Ability to perform in an ever-changing environment
Why work for us?
With parent companies in the U.S. and Ireland, your growth potential is limitless!
Work with a team of dedicated professionals who are there to support your professional growth!
Flexible benefits plans, Defined Contribution pension plan, annual bonuses and merit-based increases ensure that your hard work and dedication will be rewarded!
Visit our website for more information: http://www.crhcanada.com
Date Posted: 
Mar 15, 2019

Job Segment: Inspection, Engineer, Construction, Environmental Engineering, Civil Engineer, Engineering