Send me alerts every days
Permits, Licenses and Approvals Coordinator (Finch West LRT) - Woodbridge
Dufferin Construction - a division of CRH Canada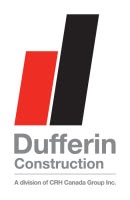 Job ID:  150881 
Work Type:  Full Time Permanent 
It is a great time to join the CRH Canada team! CRH Canada is going through an exciting business transformation which demands first-class Talent Management support to drive results.

We are building a world- class team. Make your mark!

You will be a successful addition to our team if you look at change as an opportunity to develop and contribute to the business. You will be successful in your role if you like partnering with the business, presenting new ideas and providing excellent customer service.
The Finch West LRT is a light rail transit project that will bring 11 kilometers of modern, reliable rapid transit to northwest Toronto. As a key partner in the Finch West LRT project, Dufferin Construction, a division of CRH Canada is looking for a Permits, Licenses and Approvals Coordinator to join the team! We are one of the largest heavy civil engineering contractors in the industry, employing over 1000 people. We have built a solid reputation for market excellence, through drawing on a rich history and a strong heritage of quality, stability and innovative leadership in the marketplace.
Responsibilities: #LI-SS1
Assist the PLA Manager with processing and tracking of permits, licenses and approvals;
Coordinate the use of the tracking system that tracks the progress of PLA's throughout the project;
Managing and maintaining a permit register to give the project team an oversight on upcoming and expected permits;
Joining the PLA Manager in liaising with Metrolinx, City of Toronto, and other key internal and external stakeholders;
Coordinating the internal PLA working group meetings, including minute taking and issuance of invitations;
Writing monthly reports and spreadsheets pertaining to PLA's processes, progress, and updates;
Working with document control to keep track of project report and plan submittals;
Coordinate with team members from different disciplines on when reports and plans are to be submitted and the progress up to date;
Tracking document submittals, alerting team members of risks related to reports and plans due dates required by Contracting Authority and coordinating a Non- Conformance Report with team members on extensions needed on plans and reports;
Documenting and reporting progress on PLA's and document submissions and updating project leads with updates;
Coordinating with the design team on design review packages for PLA's and document submissions to different stakeholders.
Experience & Educational Requirements:
Bachelors of Engineering (Civil)
Project Management Certificate
Previous knowledge of major infrastructure construction projects an asset.
Position Dimensions:
Working knowledge of permit application and approval procedures associated with major transportation infrastructure design and construction, located primarily on a public right-of-way
Working knowledge of plan review and approval procedures associated with major transportation infrastructure design and construction, located primarily on a public right-of-way
Ability to understand and interpret requirements and responsibilities articulated within project-related agreements related to PLA
Ability to identify and manage all the essential components of a PLA tracking system
Ability to efficiently and effectively use standard computer software
Ability to actively participate in external and internal project meetings, and to provide leadership to peers and other team members when dealing with PLA issue
Why work for us?
With parent companies in Concord, the US and Ireland, your growth potential is limitless!
Work with a team of dedicated professionals who are there to support your professional growth!
Flexible benefits plans, Defined Contribution pension plan, annual bonuses and merit based increases ensure that your hard work and dedication will be rewarded!
Visit our website for more information: http://www.crhcanada.com
CRH Canada Group Inc. recognizes Canada's diverse landscape. Accommodation is available upon request for applicants with disabilities throughout the recruitment and selection process.
Date Posted: 
May 23, 2019

Job Segment: Engineer, Project Manager, Civil Engineer, Document Control, Engineering, Technology, Administrative